Jacuzzi® J-400™ Hot Tubs
The Jacuzzi® J-400™ series of hot tubs are spacious and offer more of those little extras that will make your hydrotherapy experience even more special. All J-400 hot tubs feature the exclusive BlueWave™ sound system,  ProTouch™ Top-side control with a full colour monitor & simple one touch menu to all functions, PowerPro™ Jets, ProStream™ filtration, ProClarity™ water management, SmartSeal™ insulation, ClearRay™ ozonator, TriFusion™ Shell, WaterColour™ waterfall, ProEndure™ cabinetry, ProClear™ skimmer, ProCatch™ polishing bag, ProPolymer™ ABS base & tastefully lit headrests and cup holders.  You can also opt for the brand new ProLink® Remote Monitoring.  You can be assured that the J-400 series have the best of over 60 years research and development.
ProTouch Top-Side Controls
The ProTouch™ top-side controls are new for 2016 and make controlling the Jacuzzi J-400 hot tub more simple than ever.  Once paired with the ProLink™ app, you can adjust the settings through your phone.
Advanced Filtration
ProClarity filtration system with grill, skimming weir and a ProClear pleated filter is teamed with the revolutionary ClearRay to ensure the hot tub water is crystal clear with minimum effort.
WaterColour Waterfall
The elevated, backlit waterfall is one of the first features you notice looking at a J-400 series hot tub.  It's stunning – yet provides a soothing neck and shoulder massage when you sit underneath it.
Patented PowerPro Jets
The pulsating PX jets are found exclusively in J-400 series hot tubs. They provide a pulsating massage for your hands, wrists and calves – reliving pain and aiding relaxation.
Jacuzzi® J-495™
The ultimate hot tub for luxury and socialising.
7-8 Seats
  62 Jets
2290 x 2790 x 1170mm
Jacuzzi® J-480™
The best-selling J-400 series hot tub.
  6 Seats
  48 Jets
2390 x 2390 x 1120mm
Jacuzzi® J-470™
Spacious all seater hot tub.
  6-7 Seats
  39 Jets
2310 x 2310 x 1120mm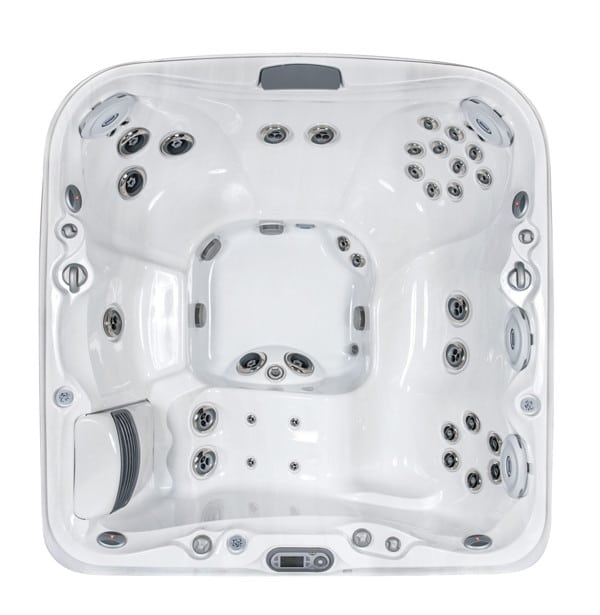 Jacuzzi® J-465™
5-6 Seats
  37 Jets
2240 x 2240 x 1090mm
Jacuzzi® J-425™
Spacious four seater hot tub.
  4 Seats
  27 Jets
2210 x 1930 x 990 mm
The Jacuzzi® J-400™ collection of hot tubs breaks the mould in hot tub design, economy and hydrotherapy.
Advanced Hydrotherapy
Relaxation & stress relief
Quicker sports & injury recovery
Promotes the flow of endorphines
Warranty
Peace of mind
Knowledgable technicians
Forward thinking customer services
Jacuzzi® History
Almost 60 years of innovation
The name that started the industry
Luxury features as standard
Hot Tubs
Gloucester
30 Brunel Court
Waterwells Business Park
Gloucester
GL2 2AL
t:01452 728278
Hot Tubs
Oxfordshire
Bicester Avenue Garden Centre
Oxford Road
Bicester
OX25 2NY
t: 01869 327698
Hot Tubs
West Midlands
A45 Birmingham Road
Meriden
West Midlands
CV5 9GY
t: 02476 639147