Jacuzzi® Hot Tubs
The original, unique & luxurious Jacuzzi® Hot Tub range – Over 60 years of research and development in hydrotherapy has produce an amazing range of beautiful hot tubs, which will provide you with an unbeatable hydrotherapy experience.
Just by looking at some of the extents that Jacuzzi have gone to to develop perfection in their range of hot tubs, can assure you of their quality.  Some of the exclusive features you will find throughout the ranges of the Jacuzzi hot tubs can be found below.
The Jacuzzi® Hot Tubs range includes seven unique series, with varying sizes and shapes to suit your requirements.  At present we have the four most popular Jacuzzi ranges for home/leisure use, on our website and on display in our showrooms.
Jacuzzi® J-500™ Series Hot Tubs
Stunning!
The Jacuzzi® J-500™ hot tub looks like a piece of modern garden furniture.  It looks amazing with the cover on and off.  Not only does it look amazing, it has unrivalled hydrotherapy and state of the art technology.
Jacuzzi® J-400™ Series Hot Tubs
The Jacuzzi® J-400™ series of hot tubs are spacious and offer more of those little extras that will make your hydrotherapy experience even more special.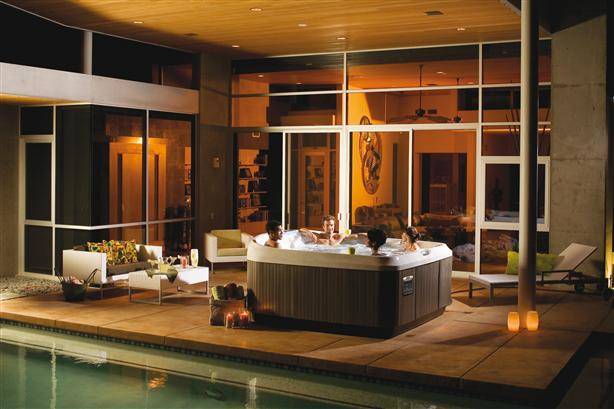 Jacuzzi® J-300™ Series Hot Tubs
The Jacuzzi® J-300™ series have unique features such as ClearRay on demand.
Jacuzzi® J-200™ Series Hot Tubs
The Jacuzzi® J-200™ series are the "classic" range of Jacuzzi hot tubs.  Designed to look and perform the way you would expect a regular hot tub to, with added Jacuzzi benefits.  Nothing ordinary about the J-200 hot tubs!
JACUZZI® EXCLUSIVE FEATURES
Jacuzzi® have used their 60 years research and development to bring us some very wonderful features:
 Clear Ray®
The ClearRay™ system, standard on all Jacuzzi® hot tubs represents an evolution in water treatment.
ClearRay uses a UV light to sanitise the water – the same UV light technology has been used for years as a reliable water disinfectant in many clinical environments, such as bottling & beverages, industrial and municipal wastewater plants, aquariums, pharmaceuticals & hospitals.
The light effectively interacts with the DNA of bacteria and viruses, destroying their ability to reproduce. It is a natural process that adds no by-product to your water. Simply designed with a long lasting, low pressure UV-C lamp and integrated in the hot tub filtration process, ClearRay treats 99.9% of waterborne pathogens. Sanitising begins in seconds, giving you crystal clear water instantly.
The ClearRay system is completely automatic and is integrated into the filtration system in all Jacuzzi hot tubs.  It is trouble free, with only an annual bulb replacement as it's maintenance.
PowerPro® Jets
Jacuzzi patented PowerPro® Jets are a high-volume, low pressure jetting system that sets Jacuzzi apart from the rest of the industry. PowerPro® jets deliver an average of 50/50 air-to-water mixture ensuring soft yet powerful rejuvenation, that will not blast you out of your seat or irritate your skin.
There are several different types of PowerPro Jets to differentiate the massage and deliver outstanding hydrotherapy benefits.
ProClarity™
A simple, yet advanced filtration process helps to maintain water quality and purity by using fewer chemicals and less maintenance than other spas. The ProClarity filtration system uses two stage filtration by introducing new technology and blending it with the proven technology of Reemay®.
Stage one is the Reemay® pleated filter that removes large debris from your spa water as it is filtered and pulled into the new ProClarity canister. Inside this canister is the second stage, a depth load filter that removes the smallest particles under pressure from the circulation pump, which then returns it to your spa, polished.
The dense depth load filter canister is maintenance free, as it is simply replaced and never needs cleaning. The long lasting pleated filter should last about 18 months before needing replacement; whereas that smaller depth load, hourglass shaped filter will need replacing very 3-4 months for optimum performance.
This two stage filtration gives you the best of blended technology, both old and new.
BlueWave™
The BlueWave™ Spa Stereo System, with Bluetooth® audio capability allows for wireless access to music tracks, playlists, and favourite radio stations from your own personal smart device, all while relaxing in the Jacuzzi® hot tub.
The BlueWave™ Spa Stereo System is a factory-installed option available on most models in the Jacuzzi Hot Tubs collections. It comes with a wireless remote control or you can change the music from the smartphone itself.  It also features an Apple USB power docking station, that allows direct connection and charging while listening, an AUX input for plugging in other devices & a FM radio.  A marine-rated seal on the docking compartment protects the system from moisture.
On the J-400™ collection hot tubs, the topside control panel operates the stereo, whilst the JBL speakers and sub-woofer deliver premium sound. (Also featured in the J-LX series of spas.)   Marine-grade speakers with a sub-woofer boost provide great sound on the J-300.
The BlueWave™Spa Stereo is also available on most of the J-200 Collection.
SmartSeal™
From the J-335 models upwards, Jacuzzi® hot tubs include SmartSeal insulating wrap. Made from recycled blue jean materials, this environmentally friendly solution achieves up to 20% further reduction in energy use and protects your hot tub from moisture and mould whilst reducing noise.
This technology has proven performance usage in aircrafts, vehicles & buildings around the world and is ideal for colder climates.
Tri Fusion™
You only have to run your hand under the lip of the acrylic on a Jacuzzi hot tub to realise that it is much thicker than normal.  Jacuzzi® patented TriFusion™ shell is an innovative three layer system providing superior strength and thermal retention. TriFusion™ uses a proprietary acrylic, vinylester, and polyester laminate process that makes every Jacuzzi hot tub shell eight times stronger than ordinary fiberglass hot tub shells.
The spa shell is made of premium acrylic to produce a surface of hard, durable material that is stain and scratch resistant. The bonding layer of vinylester resin ensures that your new Jacuzzi hot tub will maintain its beauty for years. The rigidizing structure of the spa shell contains millions of closed-air cells providing incredible flex strength. And the trapper air cells help the spa shell retain heat, which lowers operational costs.
Pro Endure™
Quality Jacuzzi® hot tub cabinets, made with ProEndure™ are designed with a natural wood grain in an all-weather, UV-resistant thermal plastic, that requires virtually no maintenance and is built to withstand the elements. They have the appearance of real wood, but reduce the demand on our natural resources and will continue to look beautiful with very little upkeep. Jacuzzi hot tub cabinets come in a variety of colours, such as Roasted Chestnut, Silverwood, and Brazilian Teak. You can chose a colour that complements your hot tub's shell to create a look that blends into your surroundings.
Pro Polymer™
One piece sealed ABS pan provides a solid foundation and is impervious to moisture and insect damage.
Pro Stream™
Available on the J-400 & J-300 series, the innovative ProStream™ circulation system efficiently produces extremely clear water by cycling 35 gallons per minute through a three-stage micro filtration process – moving water means cleaner water.
Water Colour™ Waterfall
Only on the J-400 series hot tubs, the graceful raised profile design, creates a dramatic cascade of water.  Sit underneath the WaterColour™ waterfall and enjoy a soothing neck and shoulder massage.
ProAir™
The ProAir lounger seat can be found in the J-300 series hot tubs and is designed to deliver invigorating and therapeutic relief.  FX2 spinning jets massage your neck and back, while the BX jets target your calves with a bubbly effect.
Water Rainbow™ Waterfall
With it's curved edge, the waterfall creates a dramatic cascade of water.  The stream is fully adjustable and a selection of backlight colours adds calming effects that co-ordinates with the high intensity interior lighting.  Only Available on J-300 series hot tubs.
ProTech™
The Protech™ control system allows you to customise the water and air pressure as well as your jet patterns.  You can control the filtration cycles and temperature settings and lock them in to take full control of your operating costs.
 ProLites LED Lighting
The lighting system of the J-300 signature collection spas uses LED technology to produce more light per watt than incandescent bulbs.  LEDs emit coloured light without the use of coloured filters and focus more intensely and brightly, at a fraction of the cost.
Advanced Hydrotherapy
Relaxation & stress relief
Quicker sports & injury recovery
Promotes the flow of endorphines
Warranty
Peace of mind
Knowledgable technicians
Forward thinking customer services
Jacuzzi® History
Almost 60 years of innovation
The name that started the industry
Luxury features as standard
Hot Tubs
Gloucester
30 Brunel Court
Waterwells Business Park
Gloucester
GL2 2AL
t:01452 728278
Hot Tubs
Oxfordshire
Bicester Avenue Garden Centre
Oxford Road
Bicester
OX25 2NY
t: 01869 327698
Hot Tubs
West Midlands
A45 Birmingham Road
Meriden
West Midlands
CV5 9GY
t: 02476 639147