Nov 20, 2017
Black Friday Hot Tub Sale - Jacuzzi J-375
Good morning! Are you ready to cast away those Monday Morning Blues with day four of our Black Friday Hot Tub Sale? Whoop whoop, I am too. Owning a hot tub can seem unaffordable, but with our 0% finance packages and low daily running costs, you might just be surprised.
Black Friday Hot Tub Sale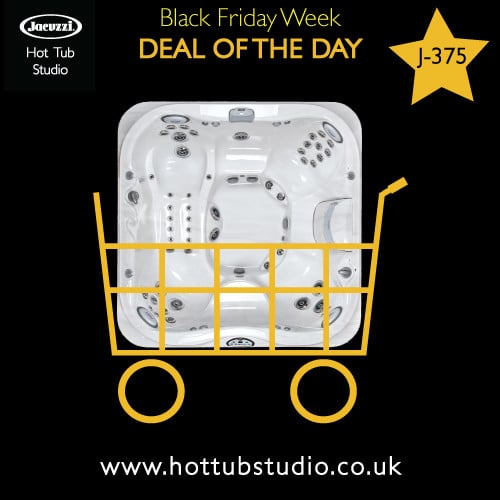 As a mad keen runner, theJacuzzi J-375 is one of my favourite hot tubs to jump into after a long run. The leg jets are amazing for tight calves and hamstrings!
Jacuzzi® J-375
Recommended Retail Price: £13,499
Delivery, installation & commissioning: £500
Cover Lifter: £150
Smart Steps: £140
Water Treatment Kit: £50
Total Package Value: £14,339
BLACK FRIDAY PRICE: £10,720
Saving: £3,619
Hot Tub Finance Packages
Three Year 0% APR Finance Option
Deposit: £1,000
Term: 36 months
Monthly Payment: £270
Total Amount Payable: £10,720
The small print
These black Friday hot tub deals are very limited in availability and is only available in Silver Pearl/Teak. Orders have to be placed by 29th November 2017 and delivered by 27th January 2018. Finance is subject to status. All orders are first come first served. We will need an email address to register your warranty with Jacuzzi®.
This is not the only Black Friday hot tub deal this week. If you cannot wait for the rest, please give one of our showrooms a call.